SmartHeart Presents The Mall Grand Dog Show 2014
ชิงถ้วยรางวัลพระราชทาน สมเด็จพระนางเจ้าสิริกิติ์ พระบรมราชินีนาถ
Challenging for HM. Queen Sirikit Trophies
FCI 15/2014 INTERNATIONAL DOG SHOW
Judges: Mrs. Carla Molinari (Portugal), Mr. Fred Bassett (U.S.A.)
Mr.Carlos Fernandez Renau (Spain), Mrs. Pamela Douglas (New Zealand)
Dr. Rafael Otalora (Colombia), Mr. Ian RasMussen (Australia)
Ms. Kim Tosi (Australia), Mr. Somsak Taechapeti (Thailand)
By: The Kennel Club of Thailand
At MCC Hall The Mall Ngamwongwan, Bangkok Thailand
Date: October 19, 2014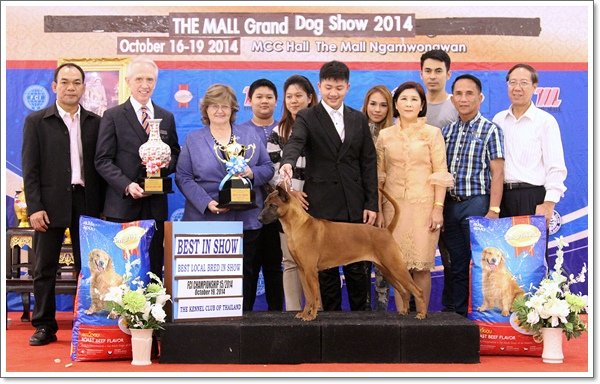 Best In Show / Best Local Bred In Show

:
THAI RIDGEBACK DOG
ถ้วยรางวัลพระราชทาน สมเด็จพระนางเจ้าสิริกิติ์ พระบรมราชินีนาถ
Challenging for HM. Queen Sirikit Trophies
INT.EURO.SWISS.GR.TH.CH.J.D.UNITED JOE'S ANGEL PHARUNGA ROONLPG (KCTH E10110922)
Sire: INT.TH.CH.POOHPA THE THAI IDOL LPG.
Dam: TH.CH.DAENG LAR NOPPAKAO & TRD OF JD
Breeder: MR.VIPAS TAWEEKITTIKUL
Owner: J.SRISUNTORNPANICH & A.PRAKAIVICHIEN &
Judge: Mrs. Carla Molinari (Portugal) BIS / Judge: Mr. Fred Bassett (U.S.A.) BLIS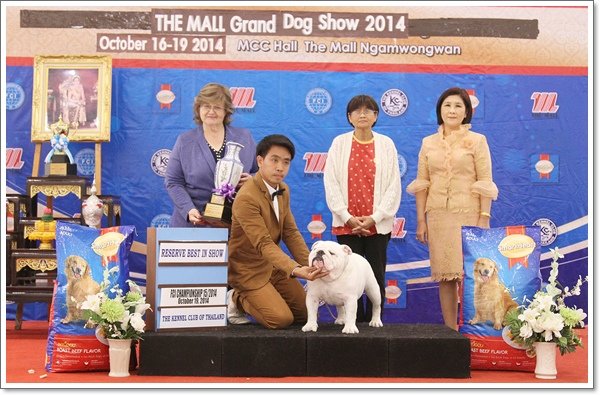 Reserve Best In Show :
BULLDOG
TH.CH.FELLOW'S IRON RANGER (KCTH 020511111089)
Sire: TH.CH.FELLOW FAMILY "IRON MAN"
Dam: TH.CH.DOORMAN SHE'S A LOT HORSE POWER OF FELLOW
Breeder/Owner: MR.NATTAPON EAKPANICHKIT
Judge: Mrs. Carla Molinari (Portugal)

3rd In Show :
YORKSHIRE TERRIER
TH.MAL.GRAND.INDIA.CH.NANETTE' S OCTOBER SEA SHELL (KCTH C09110684)
Sire: TH.CH.AM.PL.WORLD.CZECH.RO.CH.HOCUS POCUS WILD FANTASY
Dam: NANETTE'S MANEE DA-RA
Breeder/Owner: MS.NANTA TANSACHA
Judge: Mrs. Carla Molinari (Portugal)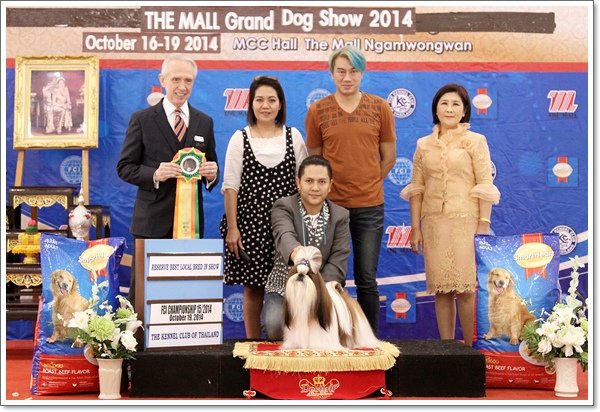 Reserve Best Local Bred In Show :
SHIH TZU
TH.CH.J.STAR'S CALL ME "TAITAN" (KCTH 092412110423)
Sire: TH.CH.DLUCREZIA UTMOST SPARKLE STAR
Dam: ASHVILLE MAGIC MOMENT
Breeder/Owner: MR.J. KOMONKUL & MR.J. KONG-AJALANONT
Judge: Mr. Fred Bassett (U.S.A.)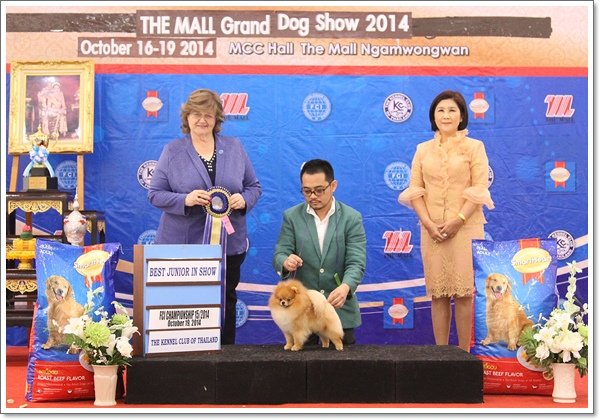 Best Junior In Show :
POMERANIAN
MOXIEPOMS' HARRY HARIS (KCTH 050413115605)
Sire: TH.RUS.CH.FON'S FIRST OF JUNE
Dam: TH.CH.MOXIEPOMS'LINDSAY DEVONPORT
Breeder/Owner: MRS.NANTAWAN PANPRUET
Judge: Mrs. Carla Molinari (Portugal)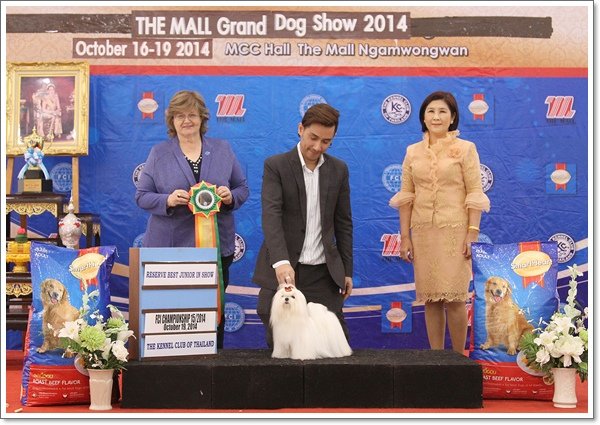 Reserve Best Junior In Show :
MALTESE
M DAZZLE DARLING OF SNOW COUNTY KR (KCTH10486826)
Sire: SOM SATANG OF SNOW COUNTY KR
Dam: SEE YOU IN MY DREAM OF SNOW COUNTY KR
Breeder: SHIN, JI-IN
Owner: PRANICHYA MOKARAKORN
Judge: Mrs. Carla Molinari (Portugal)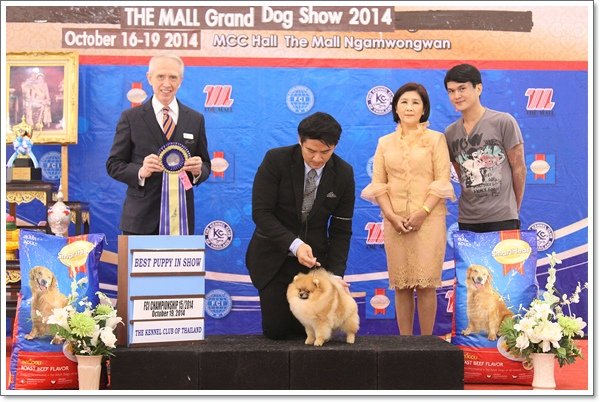 Best Puppy In Show :
POMERANIAN
POMSADMIRER'S PRECIOUS STONE (KCTH 050413118249)
Sire: TH.AM.CH.CR ROCKSTAR
Dam: POMSADMIRER'S PERFECT 4 EVER
Breeder/Owner: MR.TANYA BANGYEEKHAN
Judge: Mr. Fred Bassett (U.S.A.)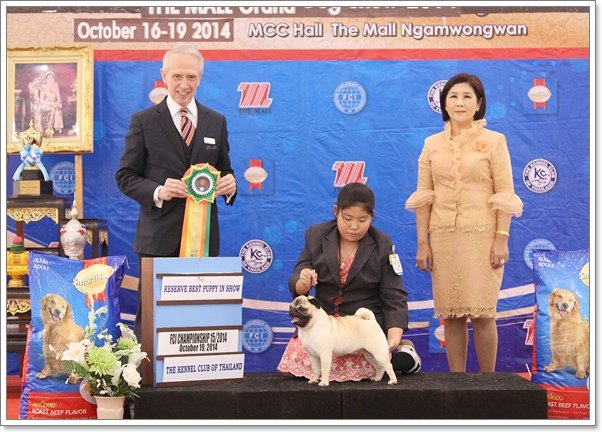 Reserve Best Puppy In Show :
PUG
DIAMOND SAND'S POWER PUFF GIRL (KCTH 092313110555)
Sire: TH.AM.CH.CORAL BAY'S SUPPER HERO
Dam: TH.CH.DIAMOND SAND'S RENESMEE
Breeder/Owner: MS.P.WALAITHIP&MR.P.WARANYU &MR.T.IVAN&MR.P.EKAPOT
Judge: Mr. Fred Bassett (U.S.A.)
Best Baby In Show :
DOBERMANN
C&S REVOLUTION KR MONSTER TROPHY HUNTER (DB-14-0002856-ROK)
Sire/Dam: N/A
Breeder/Owner: CHOI WOO SIK O.CHOI WOO SIK
Judge: Mr. Fred Bassett (U.S.A.)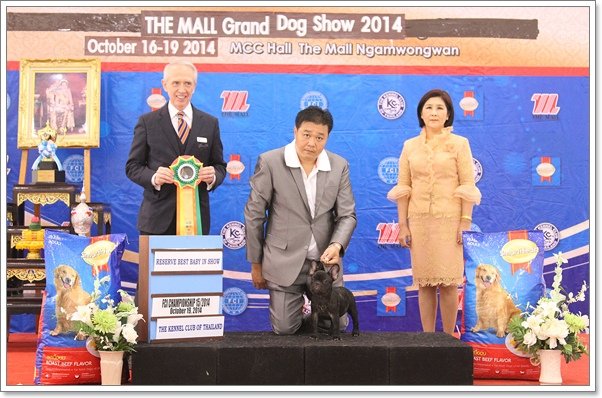 GALAXY BLACK MAGIC OF SANSUK (KCTH11484384)
Sire: TH.CH.NAPACHAI PROCEED WITH CAUTION
Dam: TH.CH.GALAXY PHOENIX BLACK ANGEL
Breeder: POOMTHAI BUDDHICHIWIN
Owner: NUTTANANAN TRAKULRAK
Judge: Mr. Fred Bassett (U.S.A.)