THE MALL FCI INTERNATIONAL CHAMPIONSHIP DOG SHOW 1/2011
78th KCTH ALL BREED CHAMPIONSHIP DOG SHOW
Judges : 1. Mr.Richard Paquette (Canada), 2. Mrs. Yolanda Magal (Israel), 3. Mr.Ole Nielsen (Canada), 4. Mr. Matgo Law (Hongkong)
By : The Kennel Club Of Thailand
at MCC Hall The Mall Ngamwongwan, Bangkok Thailand.
Date : 28 May 2011
Best In Show : POMERANIAN
AM.TH.CH.GOLDEN STAR'S TERMINATOR (KCTH E04111259)
Sire.
AM.CH.DOMINIC OF LENETTE
Dam. XANTAH PEARLS RUFFINA
Breeder/Owner. MR.ANEK SANEHMAHAKUL
Judges. Mr. Matgo Law (Hongkong)

Reserve Best In Show : DOBERMANN
TH.GRAND.CH.BADEN BADEN DONATELLA (KCTH B09100020)
Sire. ALEX DE AKIDO SAN
Dam. BADEN BADEN WANAMA
Breeder. JAVIER FARIN
Owner. MR.THANANIRUN RUNGROSTANAKUL
Judges. Mr. Matgo Law (Hongkong)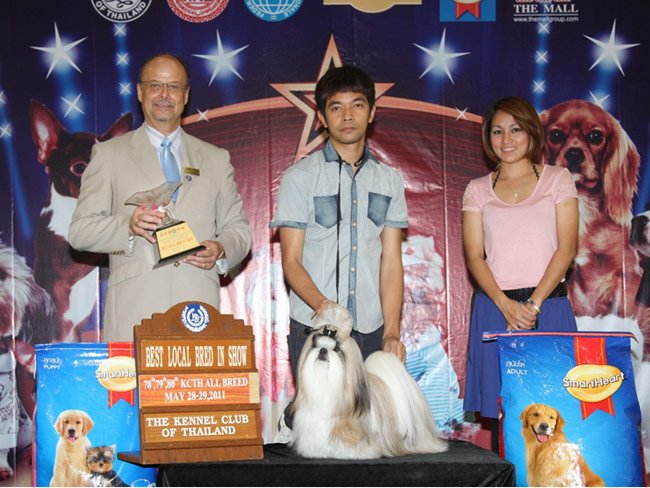 Best Local Bred in Show : SHIH TZU
TH.CH.OMEGA1 NICKI GO THE DISTANCE (KCTH I09110381)
Sire. OMEGA 1 HANDSOME LITTLE MAN
Dam. CHARMING'S CREATIVE WINNING TRADITION
Breeder/Owner. SAVITREE VIRAVAN
Judge. Mr.Richard Paquette (Canada)
Reserve Best Local Bred in Show : BEAGLE
TH.CH.CAESAR'S SUPER DANCE (KCTH F07111057)
Sire. TH.CH.CAESAR'S GENERAL MANAGER
Dam. TH.CH.CAESAR'S SPIRIT OF THE DANCE
Breeder. MR.CHAKKAPAN CHANTARASMEE
Owner. MR.VEERACHAI YAMAKAKUL
Judge. Mr.Richard Paquette (Canada)

3rd In Show : FOX TERRIER SMOOTH
TH.AM.CH.LIL'ITCH BACARAT (KCTH C10100001)
Sire. AM.CH.LIL'ITCH GAME ON
Dam. WINDTRAX IN LIVING COLOUR
Breeder. SUZANN HOESMAN & SARA LOPEZ
Owner. MR.NAKARIN ARAMMANEE
Judges. Mr. Matgo Law (Hongkong)
Best Junior In Show : SIBERIAN HUSKY
D.S.I'S MOONLIGHT SONATA (KCTH E09112198)
Sire. TH.CH.TRILLIUM BLUES GO FOR THE GOLD
Dam. TH.CH.D.S.I.'S EVERYTHING BUT THE GIRL
Breeder. MRS.RASSARIN JARIYASETTHACHAI
Owner. PUN WIN
Judges. Mr. Matgo Law (Hongkong)

Reserve Best Junior In Show : BEAGLE
SUN'S PERFECT MIRACLE ALTIVE (KCTH F10110442)
Sire. TH.CH.MALOUDA
Dam. SUN'S GAGA LOVERS
Breeder/Owner. MR.SUTHIPHONG NOPPAMAS
Judges. Mr. Matgo Law (Hongkong)

Best Puppy In Show : AMERICAN STAFFORDSHIRE TERRIER
DOGGY WORLD APPLE JJ. O' SUPHAN (KCTH C10110241)
Sire. TH.AM.CH.DOGGY WORLD'S APPLE JACK JUNIOR
Dam. TINA @ ASTON
Breeder. MR.KRIANGSAK EUROPAPAT
Owner. MR.TRAKARN PANSUEK
Judge. Mr.Richard Paquette (Canada)
Reserve Best Puppy In Show : POMERANIAN
STARLIGHT'S SWEET AND CHILL (KCTH E10113769)
Sire. TH.AM.CH.STARLIGHT'S DREAM COMES TRUE
Dam. STARLIGHT'S SWEET MOTION
Breeder/Owner. MR.SURADEJ EKVIRIYAKIT
Judge. Mr.Richard Paquette (Canada)

Best Baby In Show : POMERANIAN
K-ROSE'S MY FIRST LITTLE PRINCESS (KCTH E10115115)
Sire. TH.CH.UNIQUE'S N&P LUCK
Dam. T.BABY'S CABY
Breeder/Owner. MS.ROSELYN ANANSIRIWAT
Judge. Mr.Richard Paquette (Canada)

Reserve Best Baby In Show : BULLDOG
WINDSONG FARM'S JUBULANT HERO (NP278035/03)
Sire. AM.CH.WINDSONG FARM'S JUBULATION
Dam. STYLE BULLET RAN
Breeder/Owner. PATRICIA L BROWN
Judge. Mr.Richard Paquette (Canada)